This shop is part of a social shopper marketing insight campaign with Pollinate Media Group™ and Wet-Nap but all my opinions are my own. #pmedia #showusyourmess  http://my-disclosur.es/OBsstV
I've been in the mood for cold treats like popsicles, sorbets, and ice creams as you guys know. While it's fun to make that stuff at home, it's just convenient to pick up everything you need at the store especially with friends coming over.
Instead of always going out to restaurants, bars, and dessert shops with my friends (it all adds up, guys), sometimes it's nice to kick back at home and chat it up while having a couple scoops of ice cream served with more caramel sauce and toppings than my heart can take! So that's exactly what we did.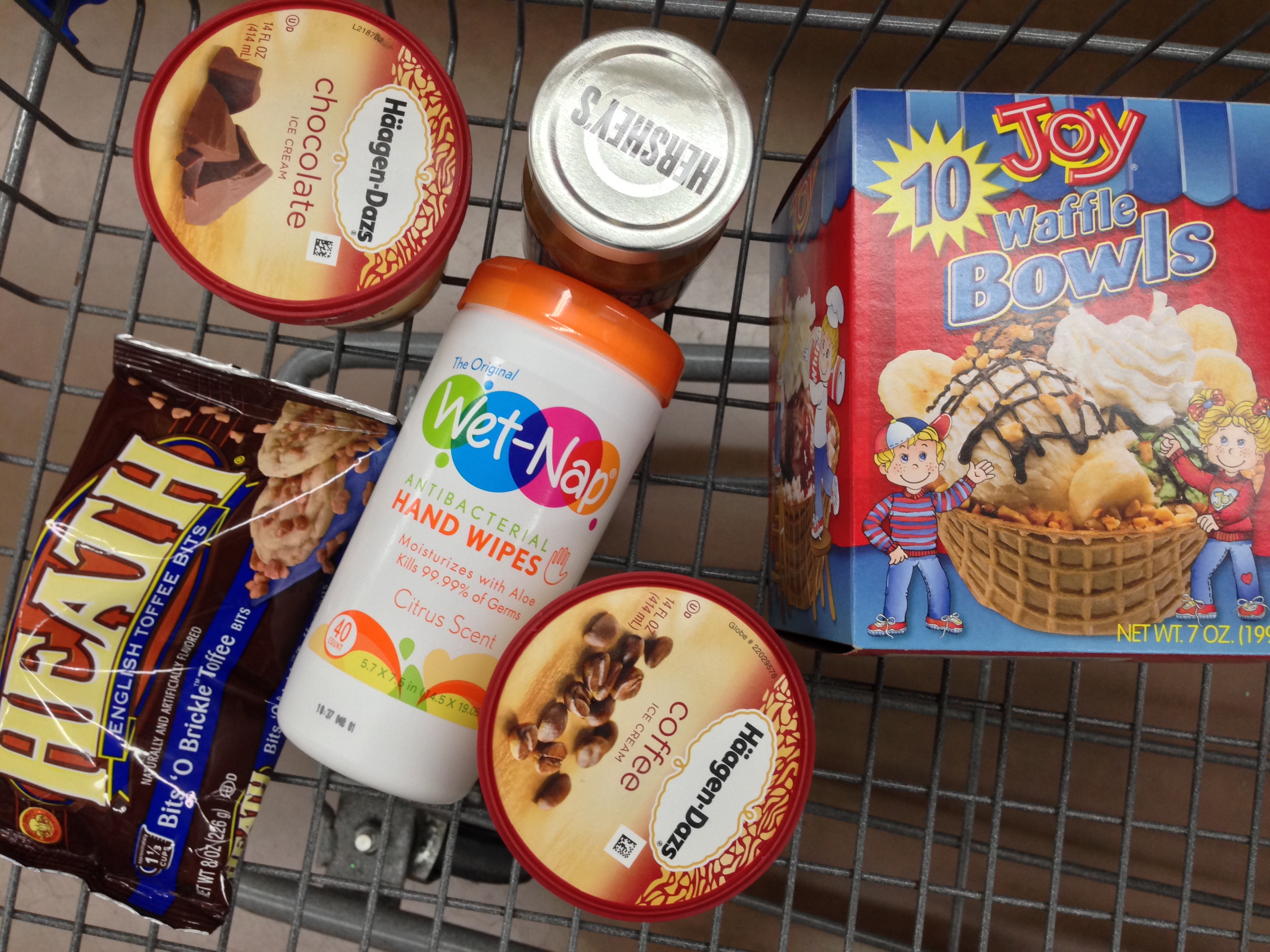 I went to Walmart and picked up everything––chocolate ice cream, caramel syrup, rainbow sprinkles, and cleaning supplies––for a fun night in. They sell EVERYTHING at at Walmart and their everyday low prices lets me know I'm getting the best prices possible. Then, I came home and set everything up outside. The thing about having an ice cream bar is that ice cream melts quickly and gets sticky and messy, which is no fun, so I set up everything outside for the easiest cleanup possible.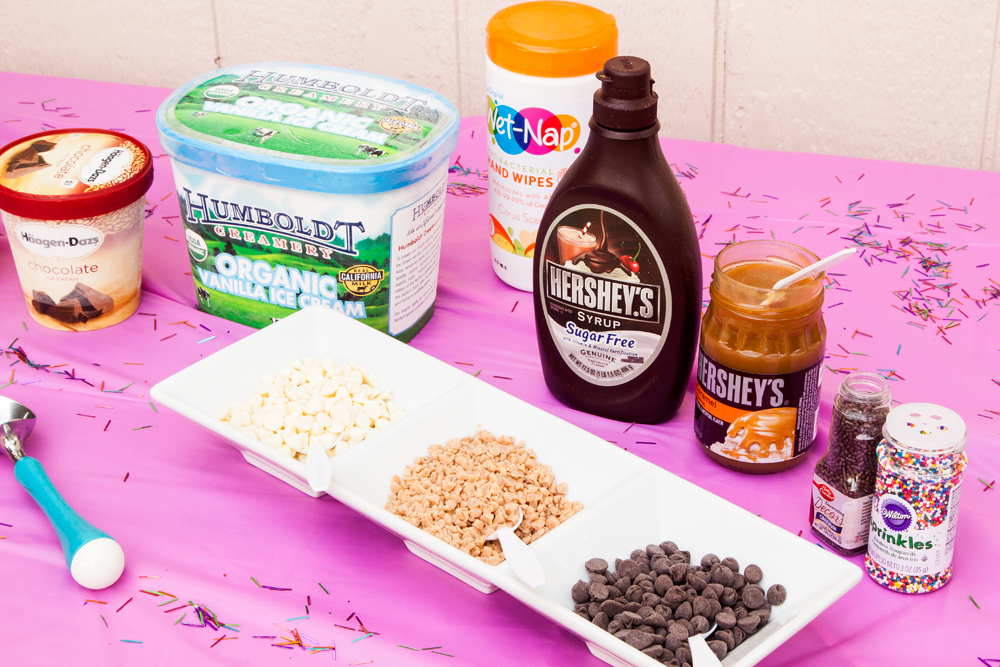 Here's a photo of some of the ice cream bar with condiments (chocolate chips, toffee bits, sprinkles, and more!)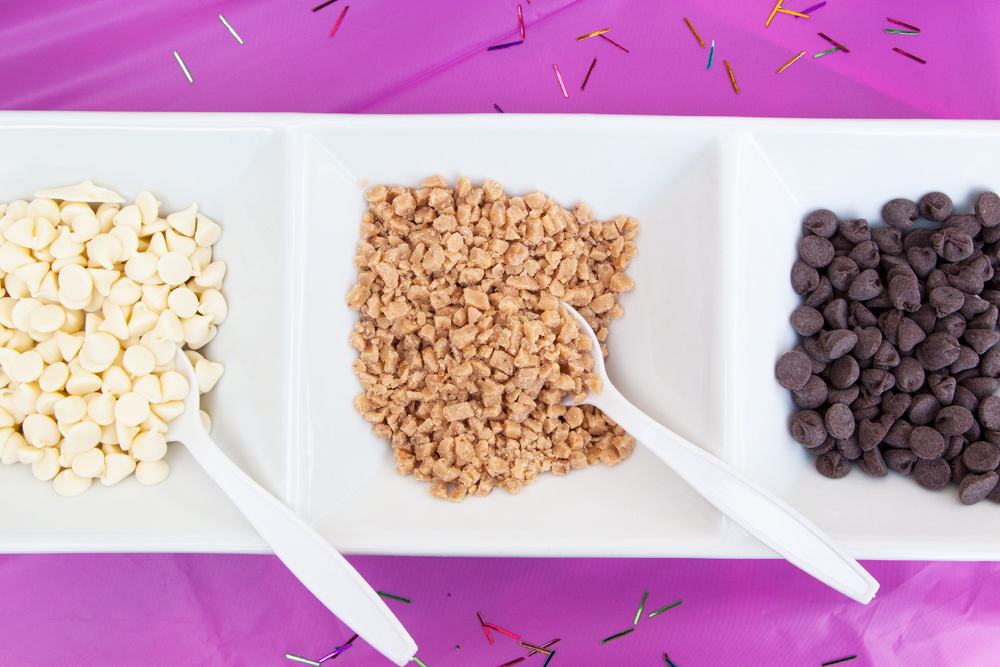 Yum! I couldn't resist getting a closeup of the chocolate chips and the toffee bits.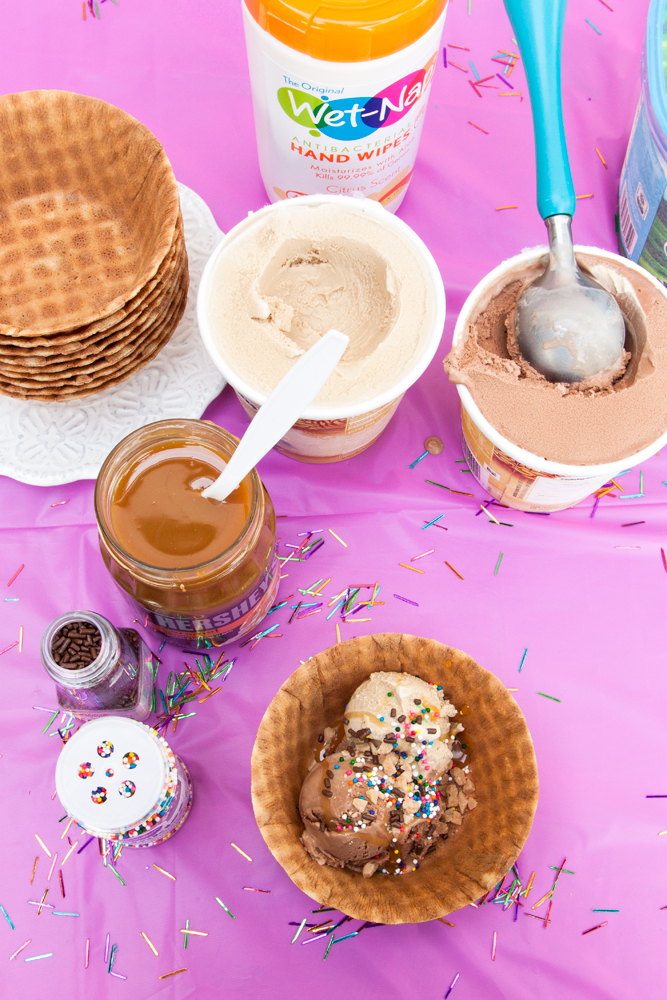 And here's a photo of my creation! In a waffle bowl (they sell them at Walmart!), I added a scoop of coffee ice cream and a scoop of chocolate. Then I drizzled some caramel sauce on there, and topped with rainbow sprinkles, chocolate sprinkles, and toffee bits. *swoon*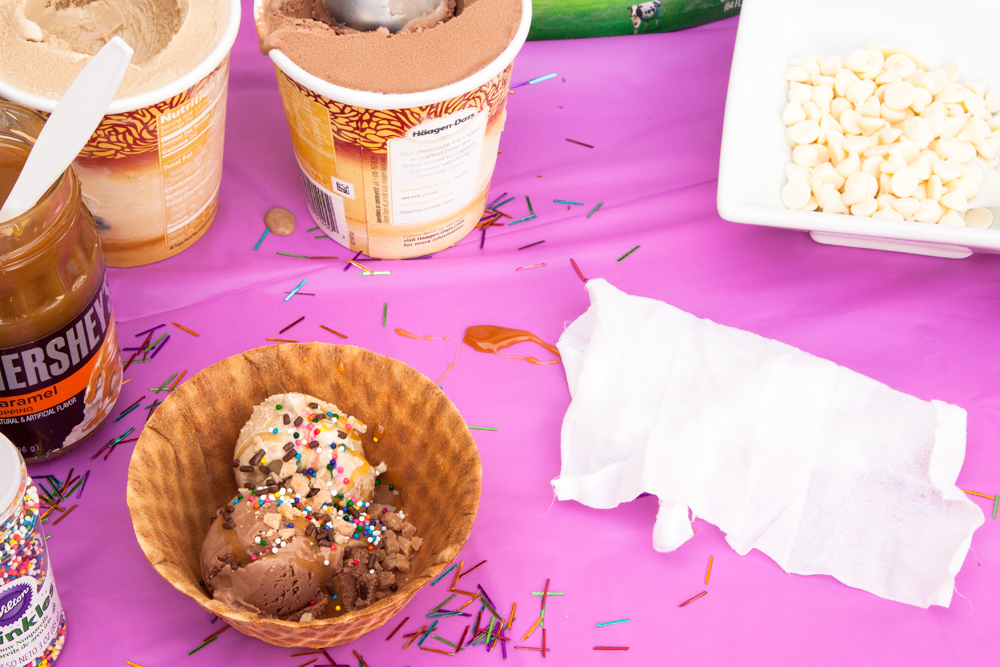 I got a little too excited I started pouring more caramel sauce on my ice cream (because there's never enough, duh) and spilled on the table. Caramel is NOT a fun substance to clean up, but I had a bunch of Wet-Naps on stand-by in case of a mishap like this! The Wet-Naps cleaned up the mess so easily. They also smell like citrus and not like a bunch of off-putting chemicals, so the scent didn't deter us from enjoying our ice cream!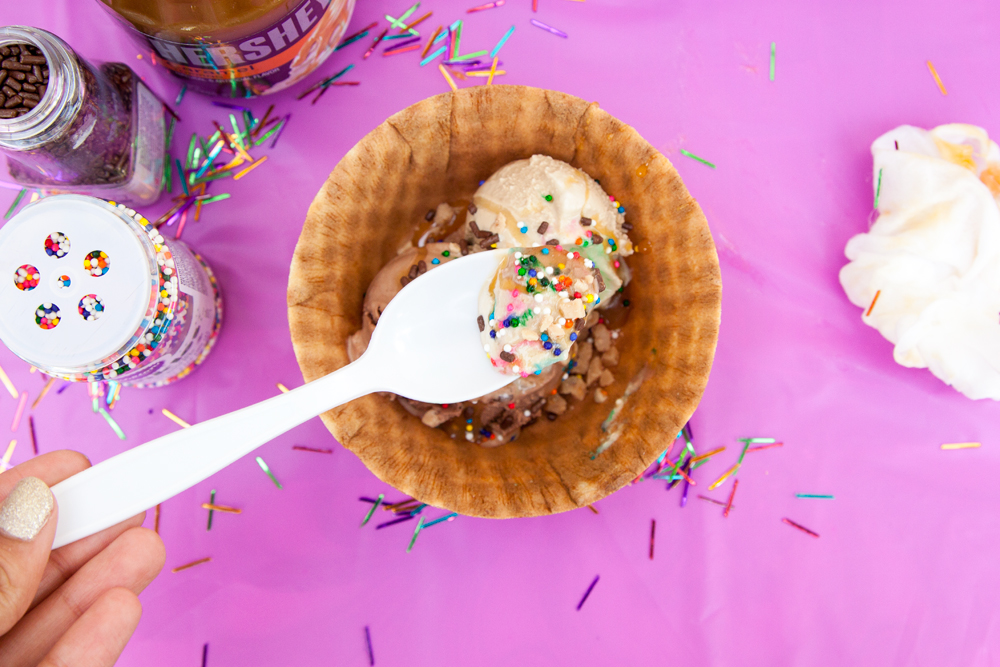 Yum! I want to eat my ice cream treat all over again. And again. And again.
If you plan on having an ice cream toppings bar like I did for any sort of occasion, I highly recommend having Wet-Nap products on hand for easy cleanup! It took only 10 seconds to clean up the sticky mess I created with the caramel. At Walmart, you can save fifty-five cents on any Wet-Nap product with this coupon! While supplies last. It's always good to be equipped with the best cleaning supplies so you spend time enjoying your treat instead of cleaning up messes!
Can I have seconds, please?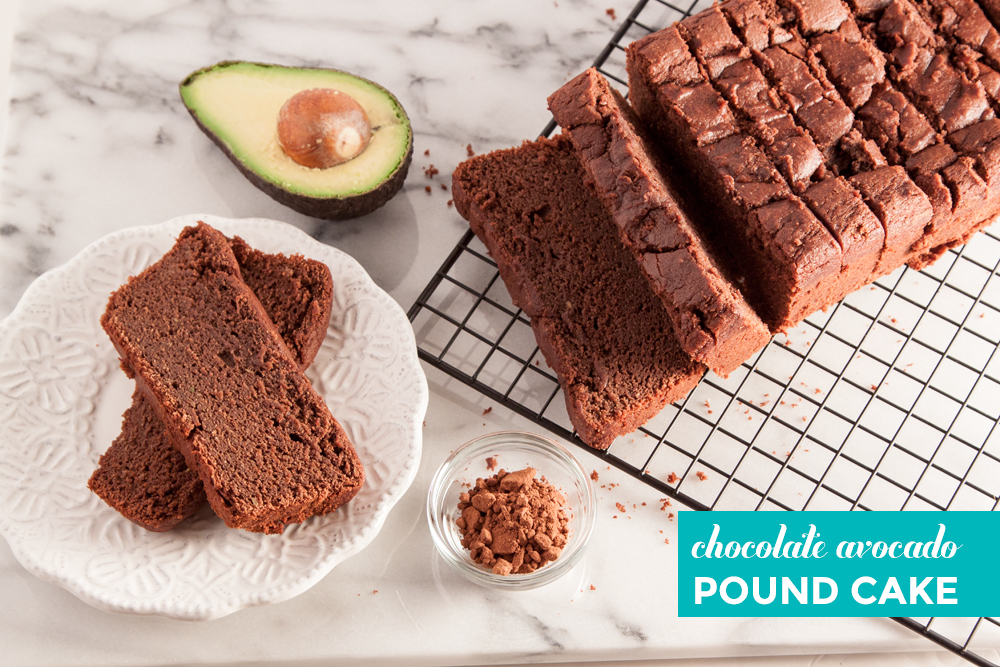 I know you that after seeing "chocolate" and "avocado" you probably have questions right off the bat so I'm going to do my best to answer them:
Yes, this pound cake has avocado in it. No, it doesn't taste like it has avocado in it. 
Avocado is actually a great ingredient to use while baking! It can replace a lot of the butter that goes into baking, making it a healthy (and rich!) replacement. Seriously, the avocado is what made this "melt-in-your-mouth" pound cake so rich, fudgy, and soft. Every single person who tried some of this pound cake LOVED it.
I also used coconut flour, which I purchased at Costco, in this recipe but it's not required. You can use all-purpose flour in its place. I just used it as a way to lessen the damage health-wise if you know what I'm saying! Pound cake isn't exactly the healthiest food so if there are ways to cut down on the unhealthy ingredients then that's beneficial.
Chocolate Avocado Pound Cake
Makes 1 loaf, approximately 12 slices. Adapted from Joy the Baker. 
Ingredients:
1 cup all-purpose flour
1/2 cup coconut flour (If you are NOT using coconut flour, use all-purpose flour instead)
1/2 cup cocoa powder
1/4 teaspoon salt
3 teaspoons baking powder
1/2 cup unsalted butter, softened
1 cup granulated sugar
1 ripe avocado (about 1/2 cup)
3 large eggs
1 teaspoon pure vanilla extract
1 cup milk (I used 2% reduced fat milk)
Directions:
First, preheat the oven to 350 F. Get your eggs and butter out of the fridge and set aside so they come to room temperature.
In a medium bowl, whisk together the flour, coconut flour, cocoa powder, salt, and baking powder.
In a large mixing bowl (or in your stand mixer), mix the softened butter until it looks like fluffy. Then add the sugar and beat. Again, it should look light and fluffy.
Add in the avocado and beat again until mixed.
Add in the eggs, and mix. Add them in one a time, and mix between adding eggs. So add one egg, mix until incorporated, and add the next egg. Before adding in the last egg, add the vanilla extract.
Now you get to add the dry ingredients to the wet ingredients! Add half of the flour mixture you made earlier to the large mixing bowl and mix. When it starts to get doughy, add in the milk and then the rest of the flour. Then use a spatula (you don't even need the mixer at this point) to mix everything until just combined.
On a greased loaf pan, add the batter. It'll be a little bit doughy compared to other cake batters, but that's fine.
Reduce the heat on your oven to 325F and bake for about 50 minutes. Check your cake every so often before you get close to the 50 minute mark because the baking time can vary between different types of pound cake (at least in my experience) so please check on your cake so it doesn't burn! Check in 5-10 minute increments until the middle of the cake is firm.
When it's done, let it cool in the pan for 10-20 minutes. Then, move to a cooling rack.
When the cake has cooled, slice and enjoy with a glass of milk or a cup of coffee! This cake actually makes a great breakfast food, snack, or dessert. Enjoy!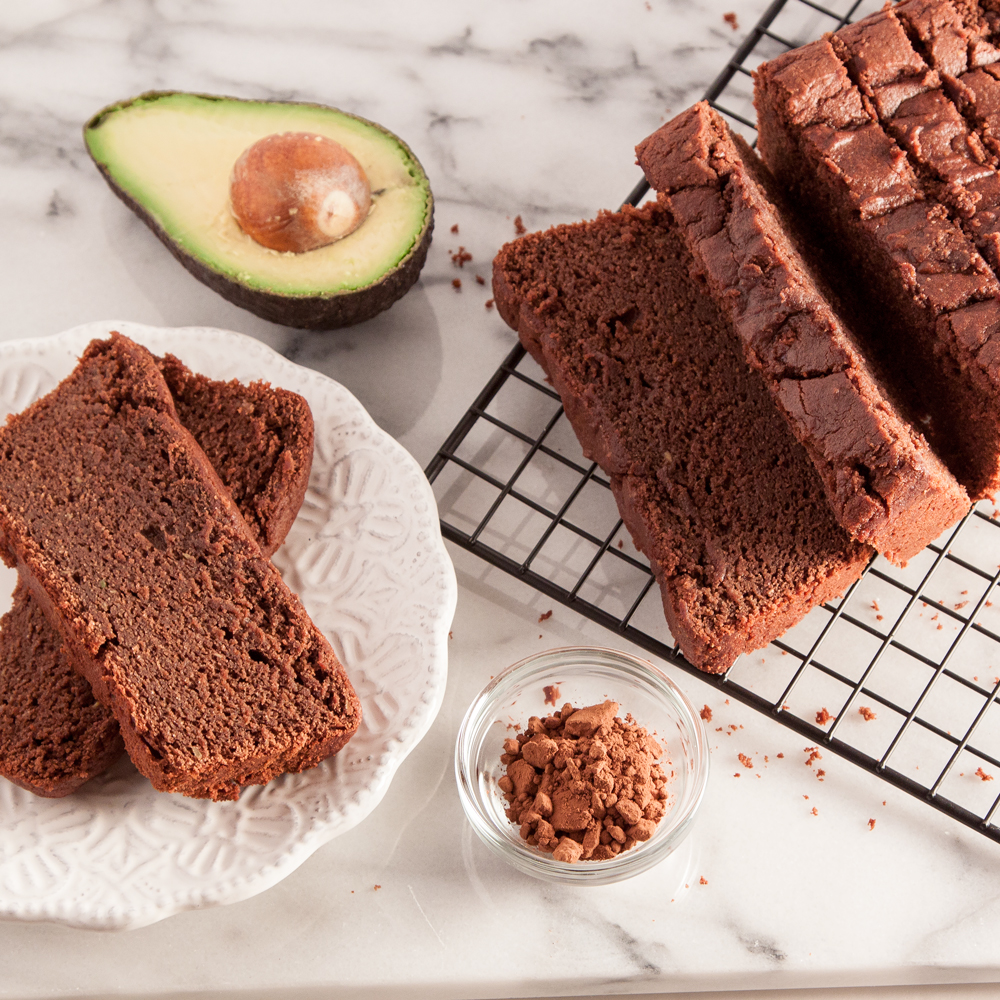 Check out my Avocado Brownies and Chocolate + Avocado Ice Cream recipes if you're a fan of the avocado and chocolate combo like I am! If you want a safer choice, try out this Chocolate Avocado Smoothie!