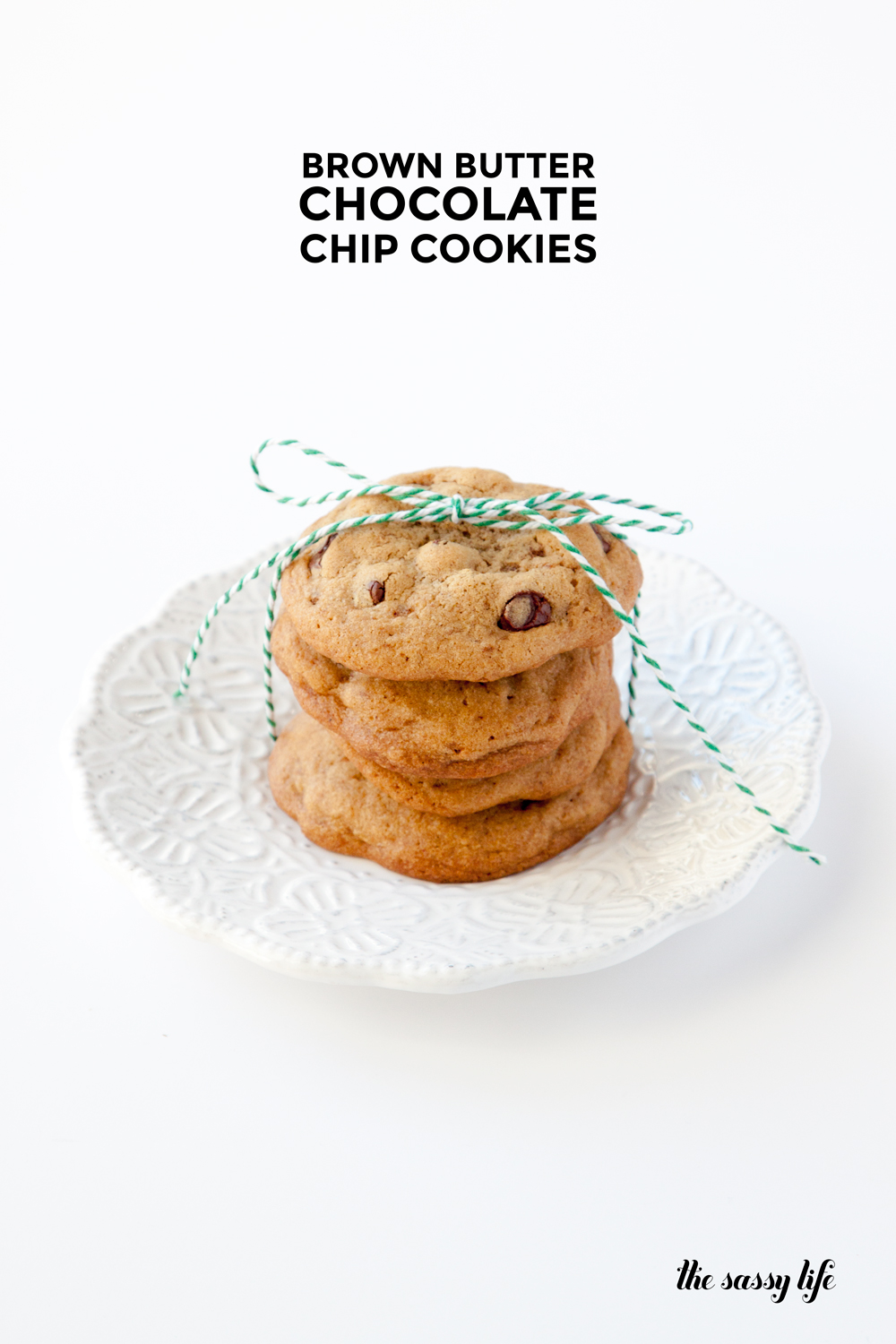 There's nothing like a classic, soft and chewy chocolate chip cookie. Everyone loves chocolate chip cookies.
Everyone.
But, sometimes it's fun to add a little twist to a classic. In this case, these cookies are getting an upgrade! By swapping in brown butter for regular unsalted butter, we're adding a nutty aroma and flavor to these sweet treats.
It's a very subtle addition, but it's sooooo good!
This recipe makes 12 cookies, but the recipe is easy to double, triple, quadruple… you get the picture!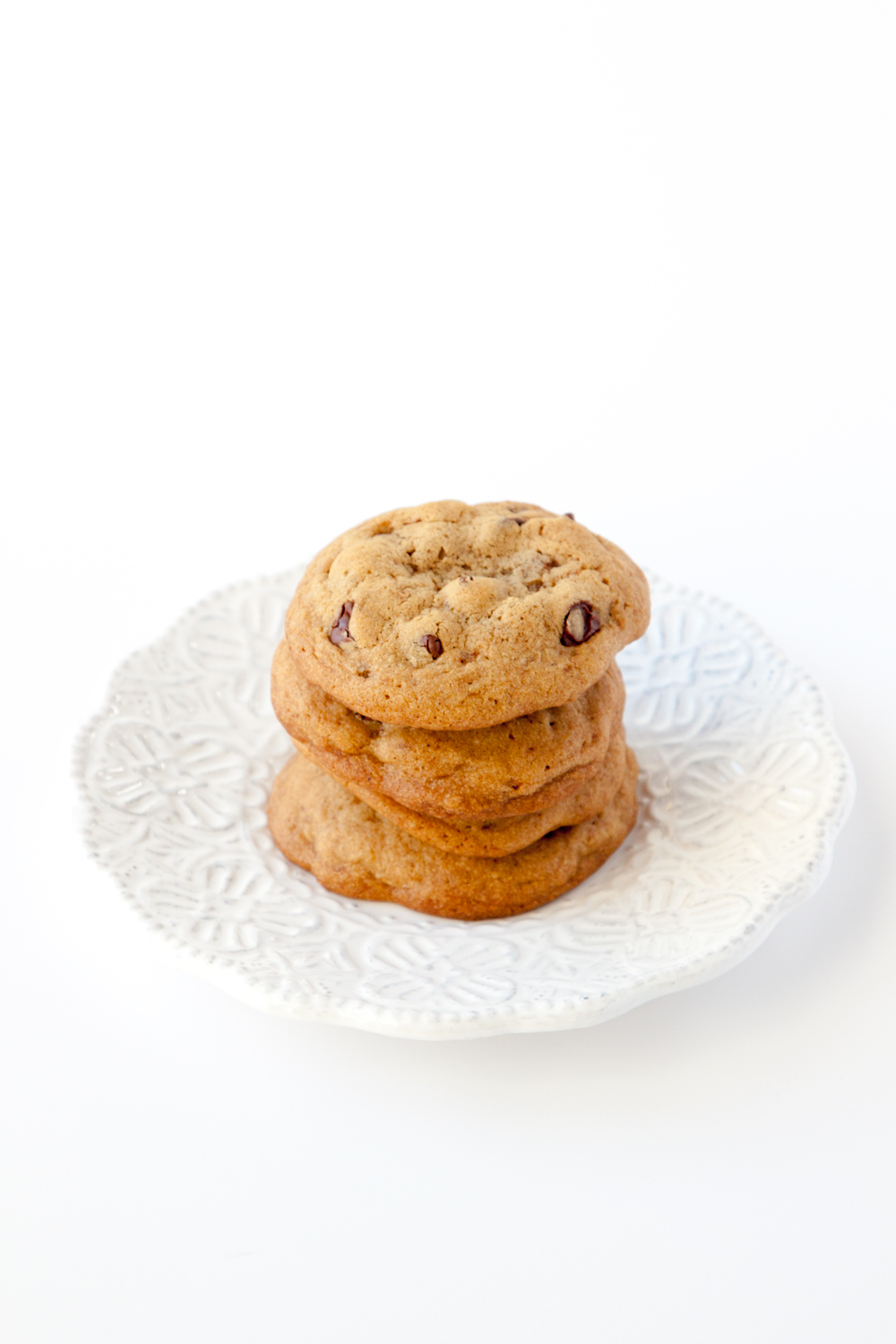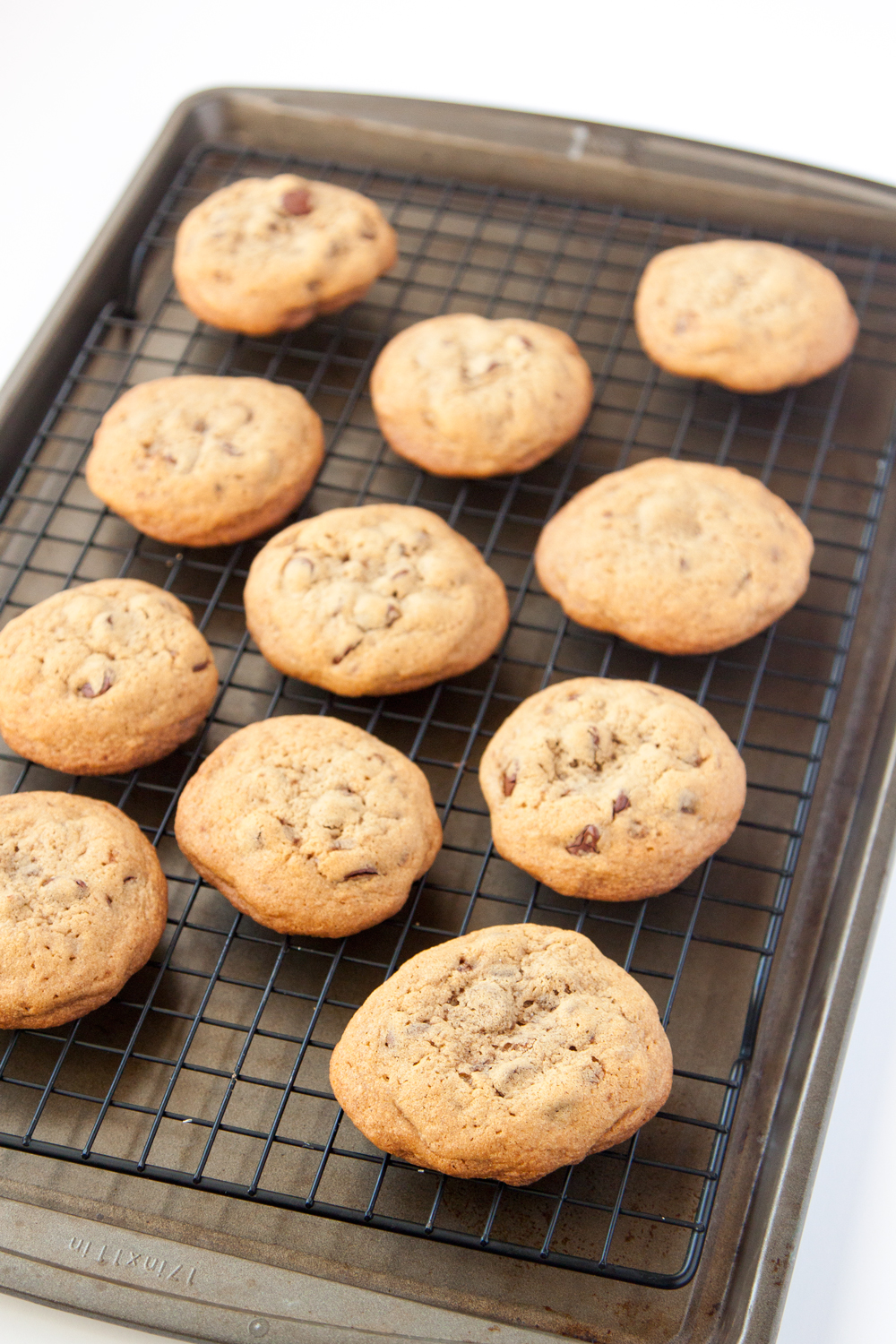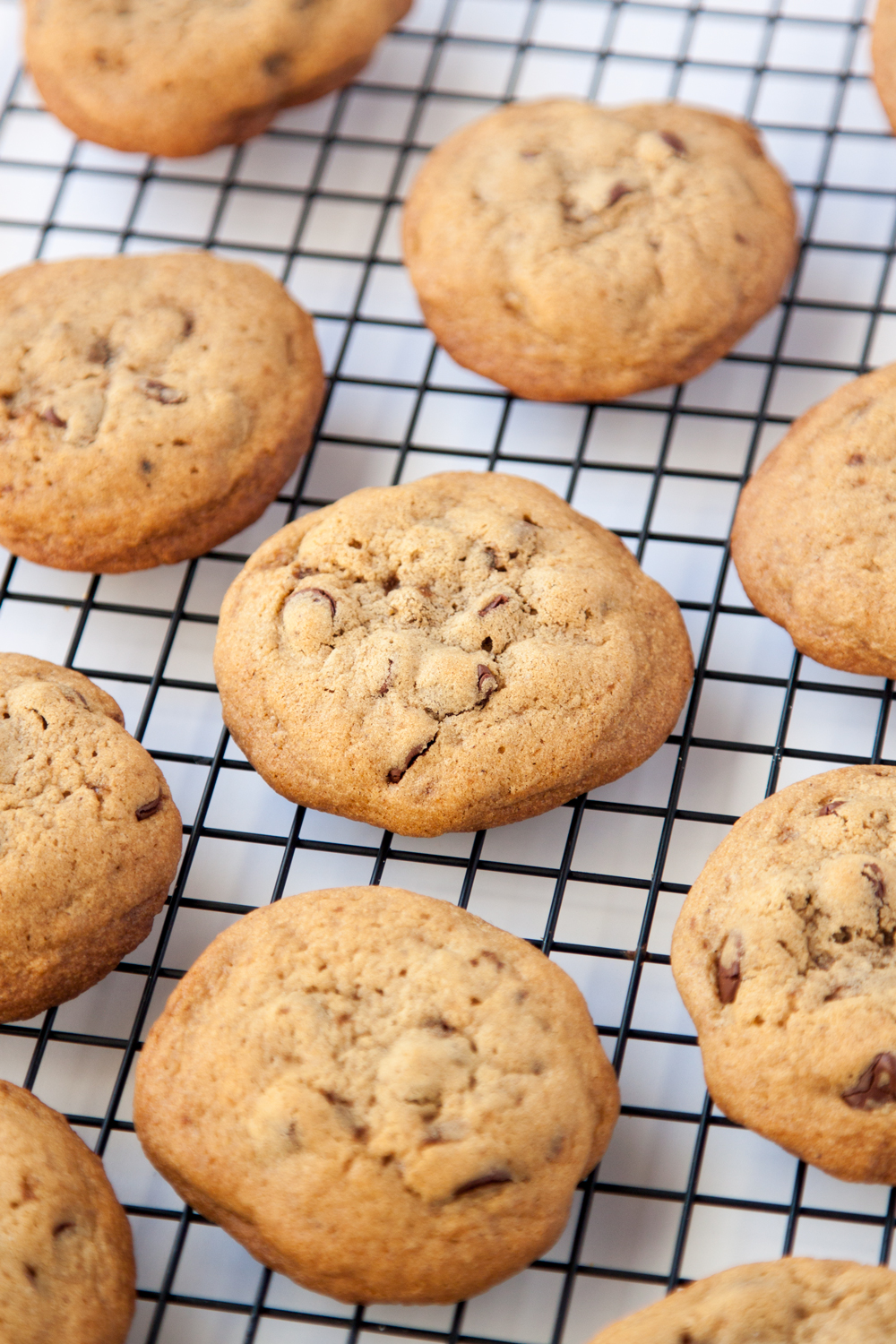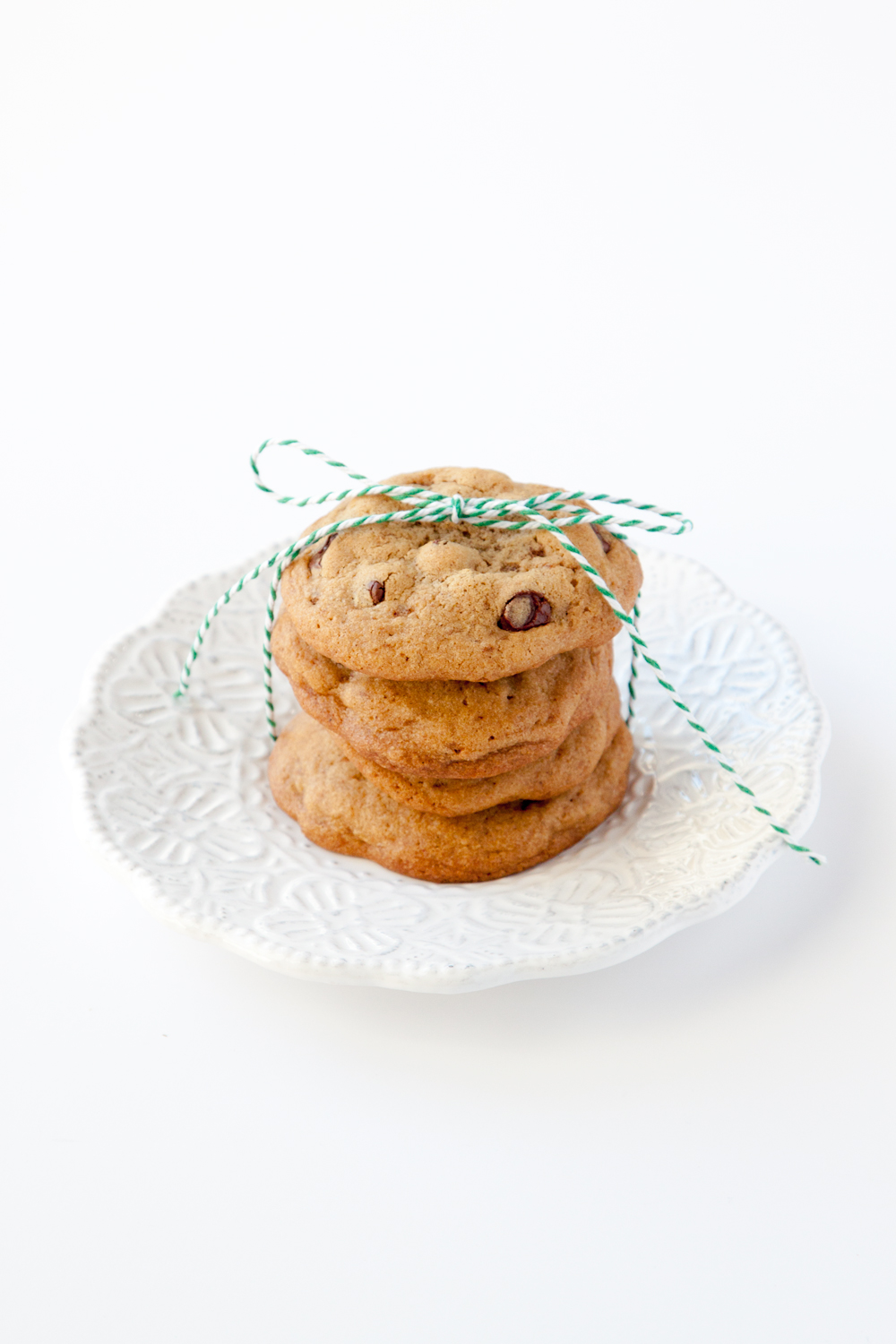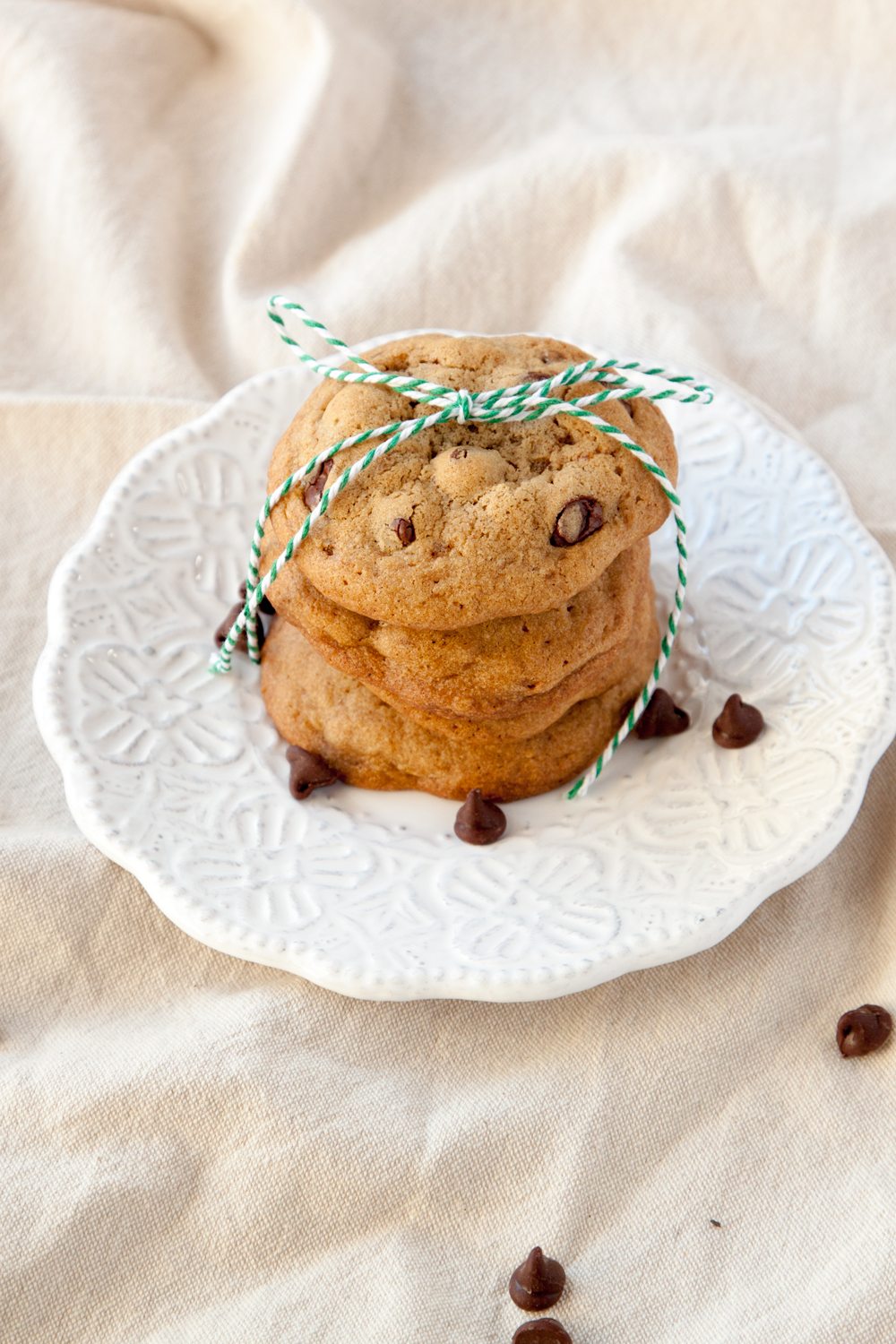 Brown Butter Chocolate Chip Cookies
Ingredients
1/2 cup brown butter at room temperature (use unsalted butter for this)
1/2 cup brown sugar
1/4 cup granulated sugar
1 large egg
1 teaspoon vanilla extract
1 cups all-purpose flour, sifted
1/2 teaspoon sea salt
1/2 teaspoon baking soda
1/2 cup of semi-sweet chocolate chips (I used Ghirardelli)
Instructions
First, we have to make the brown butter. In a saucepan on low-medium heat, let the butter simmer and constantly stir the butter. In about ten minutes or so, the butter will have a nutty aroma and dark color to it. Immediately transfer the butter to a heatproof container and let it come to room temperature. (Tip: Put the butter in the freezer to solidify)
In a stand mixer, cream together the brown butter, brown sugar, and white sugar on low speed.
Then, add in the egg and vanilla extract and continue mixing.
In a separate mixing bowl, sift together the flour, sea salt, and baking soda.
Combine the flour mixture with the wet ingredients in the stand mixer and mix until just incorporated. Fold in the chocolate chips into the dough and refrigerate the dough for about 30 minutes so that it is easier to work with.
Preheat the oven to 350 F, and line a cookie sheet with parchment paper.
Use a cookie scoop (you can use a tablespoon, too) to scoop out dough and roll into balls. Place on the cookie sheet about 2 inches apart. You should end up with about 12 cookies.
Bake for 10-12 minutes. Immediately transfer to a wire rack to let cool.
Notes
Store in an airtight container
http://www.thesassylife.com/brown-butter-chocolate-chip-cookies/
Copyright thesassylife.
Happy Sunday! Here are my Favorite Finds!
DIY Kool-Aid Dip Dye Party Favor Bags – Dip-Dye is a HOT trend right now, and there's absolutely no reason it shouldn't be. I'm TOTALLY a fan, and these cute party favor bags are so cute! I love how the dip-dye can be subtle or bold…and can you believe these bags were dyed with Kool-Aid? Amazing.
S'mores Ice Cream Sundaes – These ice cream sundaes are INTENSE––they may look small, but there is a lot of love and care that goes into assembling these mouthwatering sundaes. The toasted marshmallow ice cream is topped with graham cracker crumbles, chocolate magic shell, and actual toasted marshmallows on top. Follow Elizabeth's thorough instructions (and take her advice!) to make these delicious sundaes!
Toasted Marshmallow Nutella Sandwich Cookies – Yes, another recipe using toasted marshmallow! Not only is toasted marshmallow freakin' amazing, but sandwiching toasted marshmallow between homemade Nutella cookies sounds heavenly.
Watercolor Phrase Art DIY – There are so many beautifully designed gallery walls that grace my Instagram explore page, but to be honest, so many of those gallery walls use the same prints. Not only could you have an AMAZING custom piece to put on your wall with this DIY, it's far easier to do than you think!