Christmas is merely hours away at this point, but I know some of you haven't quite crossed off all the names on your shopping list. For me, I always have someone on my list where I just don't know what to gift! And at this point, it's a little too late to rely on shipping or the convenience of online shopping. If you want to get something to give in time for Christmas, you have to bundle up and trek to the store.
For me this year, Target has been my go-to for inexpensive gifts. They have so many gift dupes for a fraction of what you would pay at other stores (think travel cocktail kits, emergency beauty pouches, and cute mugs). Plus, you can still shop online and do an order pickup which is just brilliant.
Here's a list of my favorite last-minute gifts you can get at Target!
The Oregon Trail Card Game – $14.99
This game takes me back to elementary school when we would play Oregon Trail on the colorful iMacs in the computer lab. Instead of playing a digital version, these cards take the game analog and make it fun to play in a group!
For those who aren't afraid of "Big Brother", the Google Home Mini is a great way to make someone's life a little more futuristic. Ask Google for hands-free help in any room with this device.
Women's Faux-Fur Slipper Socks – $6
Yup, at only $6, you can buy a bunch of these in a bunch of different colors (some include feather peach, black, red, navy, and white). You might even want a pair of these for yourself!
Keurig K50 Coffee Maker – $69.99 On Sale
Someone who appreciates the ease of making coffee in the morning with little cleanup will probably enjoy a Keurig! The single serving size means that it's perfect for someone brewing coffee for themselves and that the machine is quite compact. Good for small kitchens!
Women's Sidney Over The Knee Boots – $39.99
This boot is a steal if you know the recipients shoe size! Over The Knee boots a go well with anything and are very much in fashion this year.
Me! Bath Bath Bomb Land of Milk n' Honey 6ct – $10
Yup, even bath bombs are now available at your local Target store! No need to shop for them at boutiques. Buy a pack to gift someone who needs a little "me time."
Fujifilm Instax Mini 9 Camera – $59.99
Personally, I love my Instax camera. Even though it requires purchasing film, it's really fun to compose shots and wait for them to develop. You don't really know what you're going to get until the shot has developed and you learn to appreciate the imperfections in the photography, which is totally unlike digital photography on our phones. Check out my post here on Instax Cameras for more info on how to make the most of your Instax Mini!
Clay Art Stackable Mug 15oz Porcelain – $5.99
$6 coffee mugs are the perfect low-cost gift at Target! There are so many at Target with so many messages, you're sure to find a cute one with adorned with a phrase you love!
Women's Cable Any Day Pullover – $13.98
Spending about $14 on a women's sweater is a good price! With so many colors to choose from, you can choose one that suits the recipient.
Who couldn't use a new warm and cozy blanket to keep them toasty? This is the perfect time to give someone something they could use all season long. Plus, these trendy designs make it so that they aren't just "Christmas" blankets.
Game of Phones Card Game – $19.99
Ever find yourself with that friend who just can't seem to put their phone down? Or someone who gets irritated at people who can't be without their phones for a little while? This game makes everyone use their smartphone to play, so it's the perfect way to get those who would rather scroll through Instagram and take selfies involved.
Maverick 18oz Stainless Steel Portable Tumbler – $10
This stylish portable tumbler will make sure your coffee/tea won't cool off before you can take your first sip!
Women's Faux Fur Stole – $19.99
Instead of gifting a scarf, why not gift a faux fur stole? It's extra warm and definitely in style! Plus, it goes with just about anything!
Christmas Bar Essentials Assorted Cocktail Mixes – $14.21
Why not gift someone all the ingredients they'll need to put together some good cocktails? These kits help you make it happen!
Women's Credit Card Wallet – $5
As someone who uses a credit card wallet like this, I must say it's very convenient and I've never seen a price like this!
New View 12″x12″ Black Letter Board with Gray Trim – $12.99
Have a friend who loves inspirational quotes or letter board quotes on Instagram/Pinterest? This gift is perfect for them!
Mini Essentials Emergency Beauty Kit Purple – $7
This emergency beauty kit will help you out when you're in a pinch! Put it in your purse when you're out with your friends or keep with you when you travel, just in case you need something!
Sugarfix by BaubleBar Letter and Heart Earring Gift Set – $10
A pack of two pairs of cute earrings for $10? I want some for myself!
Men's Value Striped Hat – $6.99
Beanies are a great gift for men and boys in the winter! Grab a few in different colors.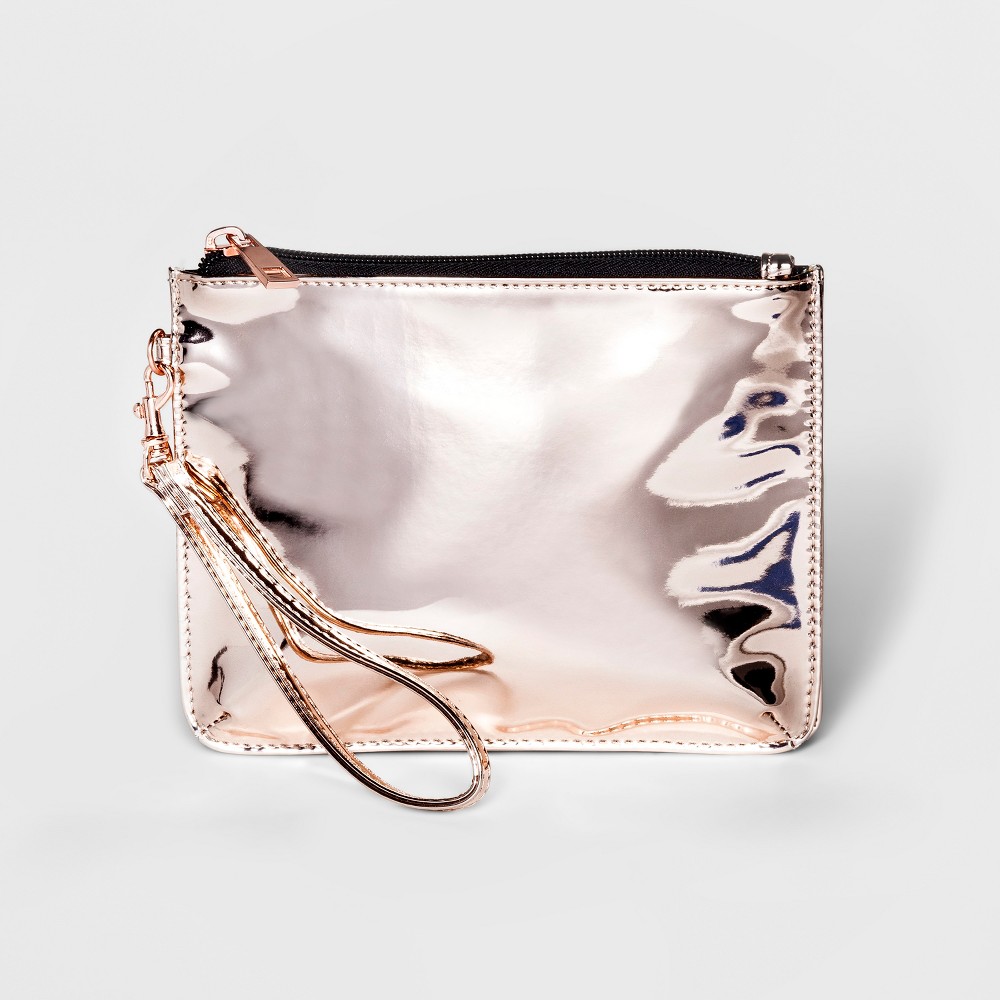 Wristlet Pouch in Rose Gold – $10
Who would want to carry their phone, wallet, and keys in this cute pouch for New Year's Eve?! At only $10, it's pretty affordable.
—
That's my list for you! There's just so much you can get from Target, it's impossible for me to list everything. I hope my list helped you find something you might be able to gift!
Disclosure: This post contains affiliate links.
Like this post? You might like these too!